Top 10 Digital Marketing Agencies in Utah 
Outsourcing digital marketing services is a popular option for brands and businesses nowadays, especially when most customers spend a significant amount of their time on the web. Businesses have multiple techniques for optimizing their targeted campaigns, from influencer marketing, content marketing, and social media optimization to PPCs, to name a few. 
Given that there are many aspects to marketing and several digital marketing strategies to consider, your in-house staff may not be able to execute all of them effectively. This is when companies can work with digital marketing agencies to let the experts themselves make a customized strategy for their brand.
Top Digital Marketing Agencies in Utah
1. Thrive Internet Marketing Agency
2. Avalaunch Media
3. Manta
4. Big Leap
5. Streiff Marketing
6. Fusion 360
7. Utah Marketing Agency
8. Fuel Marketing
9. Red Olive
10. Writing Studio
Utah's Silicon Slopes
It's a little-known fact that Utah is now in the same league as Silicon Valley. The state's Silicon Slopes boasts a multitude of tech startups and digital agencies responsible for reshaping and developing digital products and services. Utah has always had a rich tech industry that dates back to the 70s with brands like Evans & Sutherland and Novell. Ancestry.com and Omniture have made their mark here in the early 2000s, and, in 2009, Adobe made Utah their permanent base.
Among Utah's main drivers of success is how they support startups and the vast potential of talents residing there. Utah is among the best states for businesses. The state has one of the highest tech degrees per capita ratios in the U.S. The government is also known to be on the side of companies regarding subsidies and tax incentives. 
Top 10 Digital Marketing Agencies in Utah
Utah is becoming one of the more digitally centered states in the country, welcoming startups and tech businesses. Digital agencies abound here, but that's one thing. Finding which one is worth considering for your social media, influencer, SEO, paid ads, and other campaigns is another matter. It's exciting and challenging to find out which one is right for your business. So to help you out, we have listed the leading digital marketing agencies in Utah. Let's take a closer look at each one:
1. Thrive Internet Marketing Agency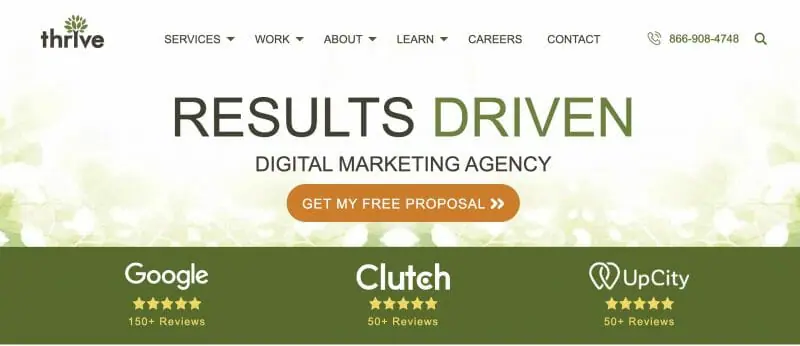 Thrive is a results-driven digital marketing agency in Salt Lake City, Utah that offers a full suite of digital marketing services. The agency specializes in pay-per-click (PPC), SEO, link building, and more.
Thrive consults with SMB owners about key growth strategies. For example, if you have an underperforming website, you can consult about improving your keyword research, mobile-friendliness, website design, content writing quality, and more.
Thrive has built a strong reputation among small-scale and enterprise-level clients. The agency manages to get the right marketing strategy because of its customized, customer-focused approach for each project. Their industry experts will assess your existing digital marketing strategies and online presence, establish KPIs, define your brand identity, and build your strategy around customer experience to maximize online engagement. 
Key services offered:
Digital marketing strategy
PPC
Link building
Google Analytics
SEO (including franchise, local, and technical SEO)
Conversion rate optimization (CRO)
Search engine marketing (SEM)
White label
Avalaunch Media is a digital marketing agency located at the foot of the Wasatch Mountains, right at the growing tech hub, Silicon Slopes. The agency has been around for nearly 20 years and has built a team of experts that can help companies navigate evolving marketing needs. They provide a suite of services covering digital marketing needs, including content marketing for sites and socials, SEO, PPC, and more. Catering to startups as well as Fortune 500 companies, Avalaunch Media is one of the top fastest-growing agencies in the region.
What separates Avalaunch Media from competitors is its vast experience in all facets of digital marketing. Everything that your business needs to launch a campaign or rev up an existing one is doable with their experts. Companies can have customized plans for boosting content, paid media, website design and optimization, influencer marketing, and PR. Avalaunch Media has worked with notable brands, including GoPro, Coca-Cola, and Salesforce.
Key services offered:
Paid advertising
SEO
Creative services
Web and conversion
Social media + PR
Marketing automation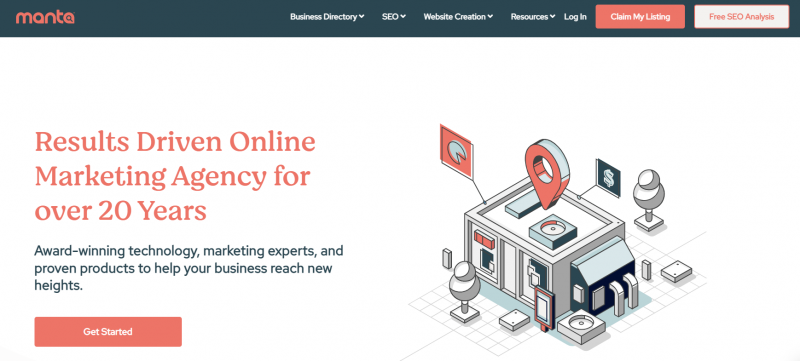 Based in Lehi, Utah, Manta has the necessary experience and technology-driven tools to generate growth for small businesses. The agency has a team of digital marketing experts who understands paid ads and digital strategies, all while focusing on your brand's products or services.
When you work with Manta, you will have a designated account manager overseeing communication, timeline, and campaign performance. The close working relationship they maintain with their clients enables them to be transparent about the project and tweak anything about the campaigns if necessary.
Manta streamlines your use of technology. Businesses can rely on the agency's team to drive engagement and revenue via paid search campaigns, visually appealing and intuitive websites, and analytics capabilities. Over two decades of work have proven that Manta is a comprehensive agency that can stand by clients who want to create or reinforce their brands.
Key services offered:
SEO (local, national, e-commerce)
Web design
Display ads
Business listings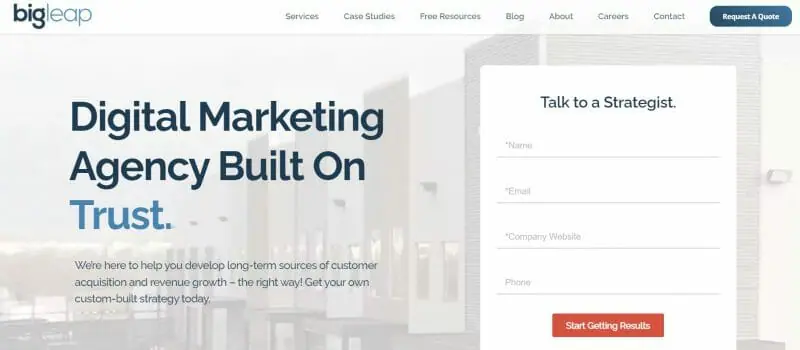 Big Leap is another trusted US digital marketing agency specializing in SEO, content marketing, social media, reputation management, automation, and CRO. Based in Lehi, Utah, the agency aims to help companies pinpoint effective and sustainable digital marketing methods. Their team of experts isn't afraid to seek and implement new strategies, as long as they still align with the client brief and targets.
Big Leap caters to small businesses and enterprise-level clients across industries. Their marketing professionals implement customized strategies that can evolve to keep up with today's new developments in Google, social media, and digital marketplaces. This is where your business can enjoy a full suite of services, so you won't have to manage multiple agency partnerships.
Key services offered:
SEO
CRO
Paid ads
Content marketing
Social media marketing
Email marketing
Marketing automation
Reputation management

Located in Farmington, Utah, Streiff Marketing is an Amazon specialist marketing agency that helps businesses that needs assistance with day-to-day management and automation, advertising, and listing optimization. The agency is hyperfocused on helping clients get more marketing value for their money by crafting successful strategies and solutions.
For instance, if you need to strengthen your current strategy and drive results, Streiff Marketing can tweak and adjust your existing content for digital amplification. Their digital marketing team will be in charge of managing your CRO, influencer marketing, and social media campaigns to maximize your current strategy.
Streiff Marketing brings over 33 years of experience in Amazon Retail and Marketplace, and the agency is capable of providing assistance with Amazon Vendor & Seller Central Account Management.
Key services offered:
SEO
Paid media
Content marketing and PR
Digital amplification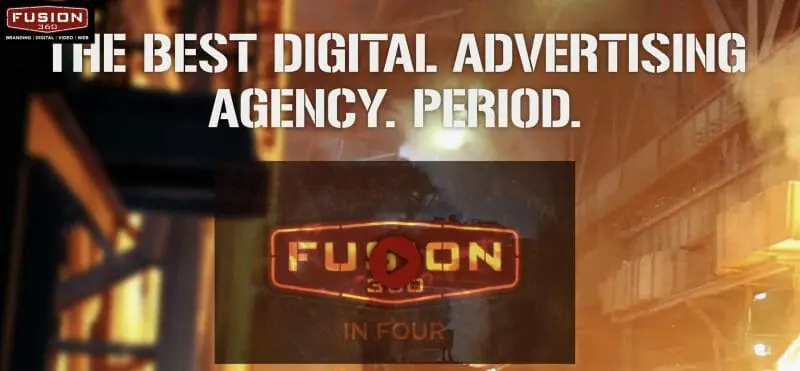 Fusion 360 is an award-winning creative digital agency in Salt Lake City that has garnered numerous awards in local and regional settings. The agency's excellence has even helped clients win 3 Emmy awards. They deliver evolving, tech-based services that include brand development, website design, content marketing, SEO, social media marketing, PPC, digital analytics, and video content.
Fusion 360 has worked with household names like Red Bull, Pepsi, Ford, and Hertz. The agency boasts an impressive 5:1 ratio for its clients, outperforming competitors when it plans custom campaigns for them. They understand the mechanics that drive demand generation. Moreover, they have an arsenal of digital marketing software tools that can produce long-term results for small businesses and major companies alike.
Key services offered:
Brand development
Content marketing
SEO
Social media marketing
PPC
Web design
Video production
Analytics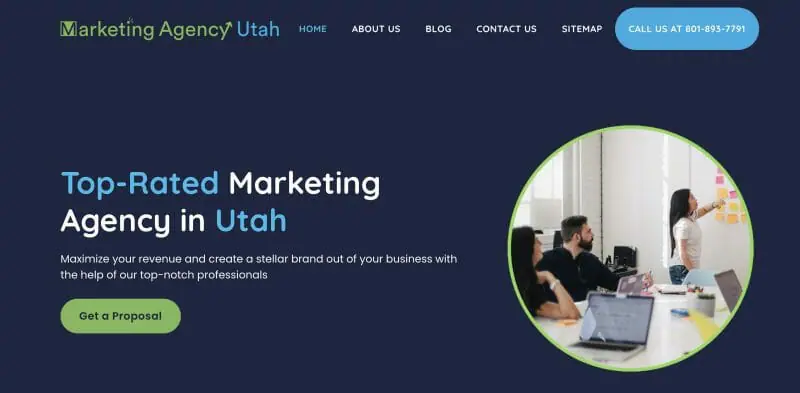 Utah Marketing Agency is a full-service agency offering end-to-end marketing services tailor-fit to businesses in every industry. They facilitate brand engagement and conversion through well-thought-out video content, paid advertising, content marketing, social media marketing, and PPC strategies.
Utah Marketing Agency caters to institutions in education, medicine, the public sector, and more. They implement a focused collaboration process wherein brands can establish emphatic messaging and ultimately build a powerful funnel of consistent sales and brand loyalty. The agency has a team of award-winning marketing experts with insight into every digital marketing tactic. A lot of emphasis is put on video advertising, meaning the agency has worked on commercials to bolster client reach and impact. 
Key services offered:
SEO
Creative content
Website development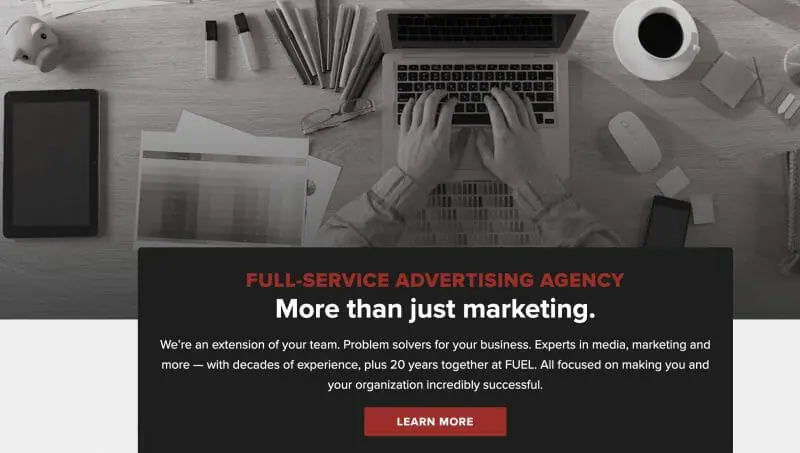 Fuel Marketing is a trusted full-service agency based in Salt Lake City, Utah. The agency's team is made up of forward-thinking, experienced creatives that can solve branding, SEO, and content marketing challenges for business clients. Fuel Marketing describes its work as "More than just marketing." The agency has years of experience, fostering around two decades of relationship with clients.
In terms of services, the agency is a go-to for website development, brand management, creative services, media buying, digital ads, and social media marketing.
Fuel Marketing specializes in franchise marketing, both for those who are franchise owners and franchisees. They have helped 237 franchises, integrating new marketing solutions while at the same time keeping strategies aligned with the franchise name's systems and protocols.
Key services offered:
Digital marketing
Social media
Media placement
PR
Design and creative concepts
Brand identity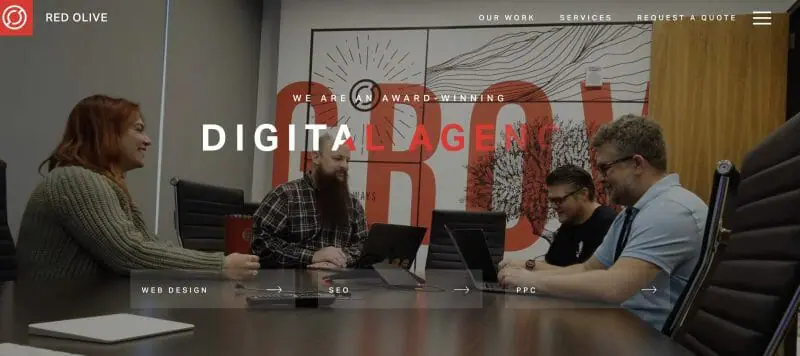 Red Olive is an award-winning digital marketing agency based in Salt Lake City, Utah. The agency offers the whole package for businesses. Whether you need paid advertising, SEO on a website, social media marketing, and more, you gain expert marketing and technical savvy in their team.
Red Olive has generated success over the years, managing over $25 million worth of Google Ads and over $7 million in Facebook paid ads. Their team of technologists, SEO and PPC experts, copywriters, designers, and digital marketers brings decades of expertise in their craft.
The agency has been around since 1999 and fostered relationships with hundreds of companies. Their comprehensive approach gives Red Olive a dynamic edge. Businesses will find everything they need within its broad offering of digital marketing services. 
Key services offered:
Keyword research
SEO
CRO
Reports and analytics
Content marketing
Writing Studio is a digital marketing agency that specializes in content writing. The agency understands how instrumental content is for SEO, social media, website traffic, inbound marketing, and influencer partnerships. High-quality content optimized for target keywords can drive engagement and conversion for your brand, and Writing Studio is Utah's finest in this area.
Writing Studio takes care of publish-ready content. Their team has over 80 writers and 15 editors working together to conceptualize topics and craft content marketing plans for any given business. Blog articles, white papers, press releases, product descriptions, and more—companies won't have to rely on in-house staff to consistently hash out these types of content.
Key services offered:
Content creation
Editing
SEO optimization
---
---